Bedair Machine Works
Gladewater, Tx.
9-2007



Grizzly G4003G Metal Lathe

Meister BC-10L DRO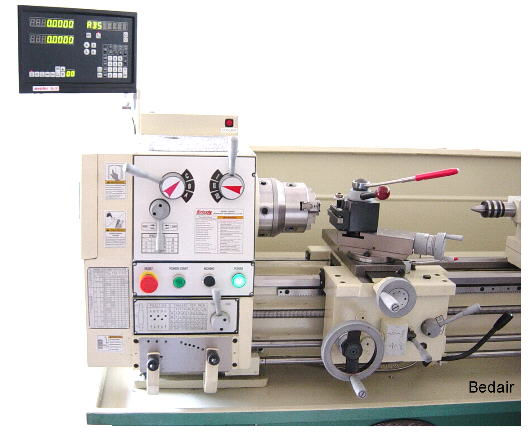 Meister BC-10L DRO
Well I took the plunge and add a DRO system to my Grizzly G4003G metal lathe and could not be happier!
After many hours of searching the internet and all the machining groups I decided to go with the Meister DRO
system made in Singapore (You can read more about this in the
Comments
section)
I was not able to find much information on adding a DRO system to the Grizzly 12 x 36 metal lathe so I've
included details and pictures on how I installed mine below.
Thanks,
Steve Bedair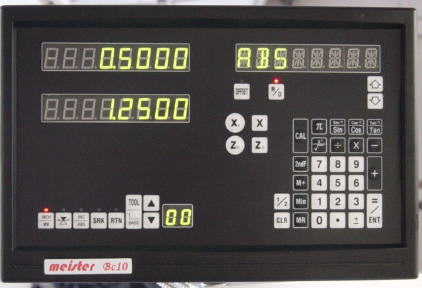 Meister BC-10L two Axis DRO
Metric / Inch
"1/2" Selected axis display is divided by 2.
Preset dimension.
Absolute / Increment Co-ordinate Interchange.
Recall - Recall the memorized coordinate position.
Mechanic Zero Position Memory: re-establish workpiece zero position after power failure.
Radius / Diameter (R / D) key pad on front panel.
Taper measure: Measure the angle of a cone.
Scientific Calculator.
Linear error correction.
Power down memory.
Change scale direction.
99 tool setting memory.

DRO Display Specification:
Response Speed: 60m/min (198.6 feet/min).
Resolution: 0.005mm/0.0002",
(can be set to match 1 um & 10 um linear scale).
Quantizing error: +/- 1 count.
Power Source: AC 110 - 220V, 50 - 60 Hz.
Auto-switching power supply.
Temperature range: Operating 0 ~ 40 deg C.
Display: 8-digits green color LED display.
Dimension: 11.5" x 7.5" x 4.0"
(290 x 190 x 100 mm).
Die-cast alumimiun casing.

Linear Scale:
Etched glass scale type
Grating pitch: 0.02 mm (50 LP/min).
Accuracy: ±0.005 mm or 0.0002" (at 20 deg C).
Every scale has ABS reference marks.
Response Speed: 60 m/min or 40 ins/sec.
Output Signal: Two square wave signals, TTL.
Standard 3m (10 ft) long armoured cable. Extensions available.

Comments / Questions / Contact Steve
This information is provided for personal use only.
Copyright 2002 / 2007 Steve Bedair