Steve Bedair's
9 x 20 Lathe Site
Longview , Texas
6 -2002

Tumbler Reverse
Harbor Freight 9 x 20 Lathe
Page 1




Here are some pics along with a brief descriptions for adding a tumbler reverse to a Harbor Freight 9 x 20 lathe.
I posted this information to show the building process I used and hopefully help those who are interested.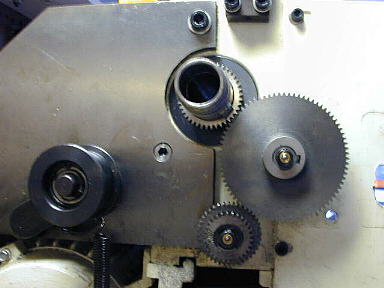 This is the before picture with the spindle pulley removed.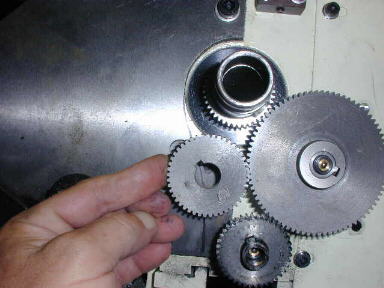 Using the 45 tooth gear a mark is made in the approximate new location.
It does not matter what size gear is used here. The tumbler gear is just a "filler" gear
and will not affect the threading ratios in the reverse position. I choose the 45 tooth
gear for it's size and the fact it is used for only one metric thread.
And yes I have cut LH threads without any problems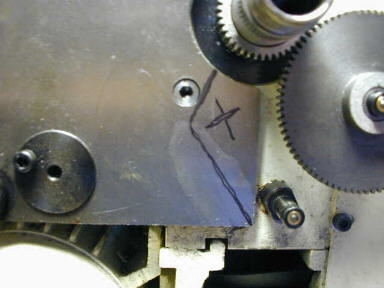 Here I chose to cut out the bracket shown above. This will allow 3/8" thick steel plate to be used for
the gear carrier plate.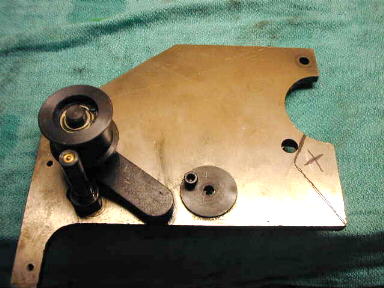 The plate is held on with 2 allen head screws.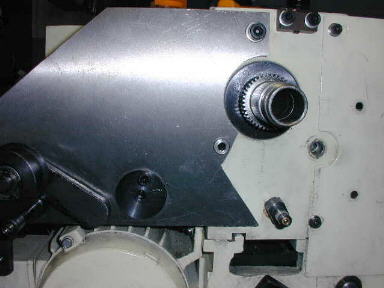 The plate was removed and cut with a jigsaw / metal cutting blade. The plate cuts pretty easily and
could be done by hand with a hacksaw.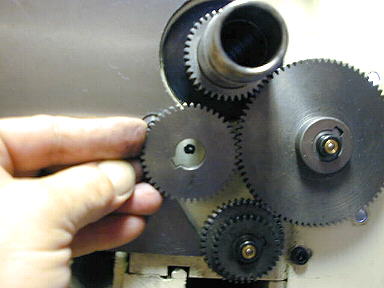 Here I am centering the 45 tooth gear and placing a mark to get an idea of where
the gear will be placed. I would suggest rather than centering the 45 tooth gear
between the spindle gear and lower gear, to move the 45 tooth gear a little
below center and marking. This will make sure that there is plenty of room
for a neutral when building a forward / neutral / reverse latching mech.
Comments / Questions / Suggestions or Add Your Link
This information is provided for personal use only
Copyright 2002 Steve BedairCopyright 2002 Steve Bedair