Steve Bedair's
9 x 20 Lathe Site
Longview , Texas
7 -2002

Variable Speed 9 x 20 Lathe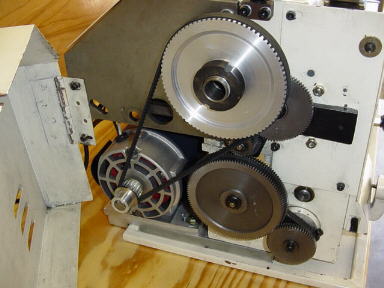 Comments:
So far I am very pleased with the variable speed control. With the pulley arrangement I am now using the lathe
has a maximum rpm of 1100. This is not a problem for me but may be too slow some. With building my own
timing gears I could change the ratios if ever needed. The slowest useable speed is around 60 rpm which is
really nice while threading. Another feature I like is that when the motor is stopped it stops on a dime unlike the
original AC motor that would have to coast to a stop. Please note that I have not been using the variable speed
very long so I can't say for sure how durable the motor / electronics are. So far so good.
As for using the controller it's a lot like getting used to operating the 7 x 10 mini lathe.
After a little more use I will add the results.



Materials I Used:

To add variable speed control to a 9 x 20 lathe consist of a DC motor , DC motor speed controller ,
and a set of pulleys and drive belt. I have included info below on how I obtained the items I used.
DC Motor
For the motor I used a new surplus treadmill motor from American Science & Surplus. They have quite a few
motors to choose from ( new & used ) and all less than $50 + shipping. Here's the one I chose:
31358 NEW 2 HP LEESON MOTOR $49.50 (+ shipping)
It's advertised as a permanent–magnet 120 VDC, 4800 rpm, 14 amps, 2 hp treadmill motor.
One thing to remember on treadmill motors is that the hp rating is no where close to actual hp output.
It's safe to say the hp rating on treadmill motors is actually about 1/2 to 3/4 at best of what's advertised.
For the price it's a nice motor.
DC Variable Speed Motor Controller
A DC motor controller is an electronic device that converts 120 VAC or 220 VAC to variable DC power.
For the treadmill motors you will need a controller capable of working with a permanent–magnet dc motor.
You will also need to pay attention to the voltage & hp rating. Some controllers are rated for small dc motors
(1/8 to 1/4hp) and anywhere from 12vdc up to 180 vdc.
Motor controllers can be expensive , The best source I found for a good controller is E Bay. If you don't find
anything just wait a day or two. Try searching: DC motor , Variable speed , or Variable Speed Motor Controller.
You should be able to find a good controller for $25 to $50.
The controller I found is actually rated at 100 vdc and is advertised as good through 1 hp at 12 amps.
Since the treadmill motor's hp is rated at 14 amps the controller should work fine. I picked this one
up for $35 plus shipping.
Most of these controllers do not mention they are reversible but this can be easily fixed
by wiring a toggle switch through the DC outputs to the motor. This is better explained in the
Motor Controller web page.

Pulley's / Drive Belt
For drive pulleys I built my own using a dividing head and my Grizzly mini mill. I built the pulleys to use
the same pitch and width as the cogged belt used on the 9 x 20 lathe. I've added a page to describe
the pulley building process here.
If you can't build your own you will need to find a set of pulleys for your motor & spindle.






Comments / Questions / Suggestions or Add Your Link
This information is provided for personal use only
Copyright 2002 Steve Bedair