Steve Bedair's
9 x 20 Lathe Site
Longview , Texas
10 -2002

Crossfeed Lead Screw
Harbor Freight 9 x 20 Lathe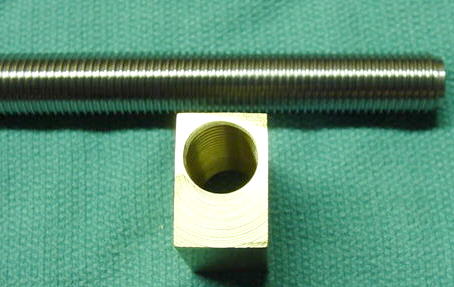 The new lead screw was turned from 1/2" drill rod. The threads are 7/16"-20 Left Hand.
To cut the left hand threads for the leadscrew you will need to reverse the
direction the leadscrew. I did this with the Tumbler Reverse mod shown here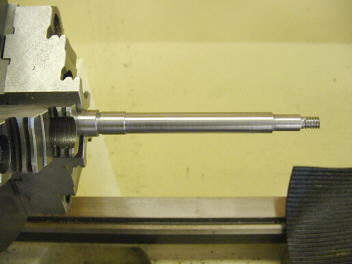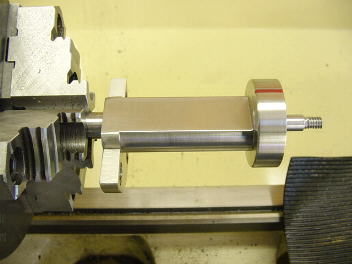 I first cut the shoulders for the new mount and threaded Test fit of the new mount.
the end for the handle attaching nut.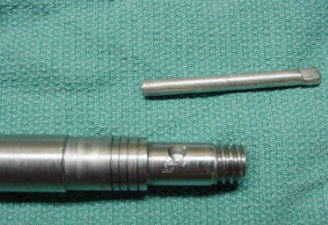 Instead of cutting a key seat to attach the handle ,
I drilled an 1/8" hole and inserted a 1/8" steel pin.

The threads on the right are for attaching the handle nut.
I didn't have a metric tap so I used a 5/16"-18 tap.
This was close enough to be able to use the original handle nut.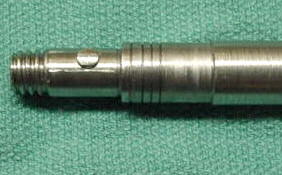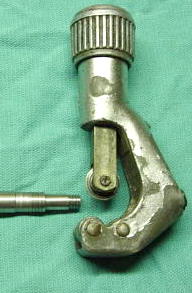 The 1/8" steel pin was cut down and the sides were filed slightly to achieve a "snug" fit. If you noticed the
4 rings on the shaft this is where I got a little carried away and removed too much material. This is where
the ball bearing for the handle rides. I used a tubing cutter as shown on the right to knurl or raise the metal
on the edges of the grooves. This added to the OD and allowed a tight fit again.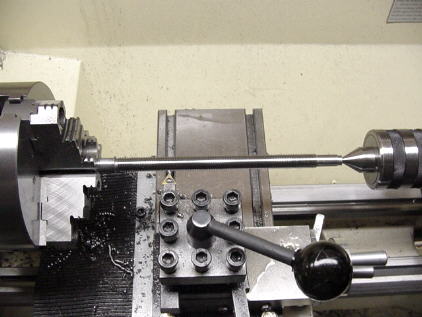 Once the handle end of the lead screw was completed I cut the LH threads.
The 1/2" drill rod is supported using a live center. The OD is turned down to 7/16"
to allow for the new 7/16"-20 LH threads. Since the threads are left hand
threads the cutting goes from left to right. I also left the lead screw about
1" long as seen on the right. This gave plenty of stopping room while cutting the threads.
When completed the lead screw was cut to the proper length.


Comments / Questions / Suggestions or Add Your Link
This information is provided for personal use only
Copyright 2002 Steve Bedair